Franz Mohr, em. Chief concert technician Steinway & Sons, NY
One man was critically important to many of the greatest pianists of our time: Franz Mohr, former Chief Concert Technician of Steinway & Sons for more than a quarter of a century.
As the close colleague of legendary musicians such as VLADIMIR HOROWITZ, ARTHUR RUBINSTEIN, GLENN GOULD, RUDOLF SERKIN and many others, Franz Mohr attended to their Steinway instruments, making delicate adjustments that affect tone, balance, and other characteristics of sound. It was Mohr who enabled these virtuosos to fully realise their own individual interpretative styles, and to fully realise their concept of tonal colour.

Youtube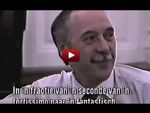 With Horowitz in Amsterdam 1986
Youtube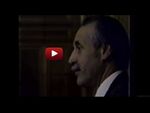 With Horowitz in Russia 1986
Youtube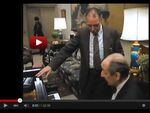 Franz Mohr in "The Last Romantic"
BIOGRAPHY:
Born in Duren, Germany, on September 17, 1927, Franz Mohr studied music at the Musikhochschule in Cologne and the Academy of Music in Detmold, Germany. He learned piano-building in Europe beginning in 1950 in Cologne, Germany. In 1956 he became a concert technician for a Steinway dealer in Dusseldorf, Germany, which maintains a large concert service. Six years later he and his family moved to New York.
A master piano technician, Franz Mohr joined Steinway & Sons in New York City in 1962 as assistant to William Hupfer, then chief concert technician, whom he succeeded in 1968.
Franz Mohr retired as chief concert technician of Steinway & Sons in 1992. He and his wife, Elizabeth, lived in Lynbrook, New York. He was for many more years an active advisor and consultant to Steinway & Sons. He was also a well-known book author ("My Life with the Great Pianists" and "Backstage with Great Pianists" – German, 2 Audio Interview books 2010) and a brilliant speaker.
He cooperated closely with Crescendo. Beat Rink has published several books with Franz Mohr in German and in English, and organised annual lecture tours in Europe. Franz Mohr died on Sunday, March 27, 2022.

Books & CDs
CD Box (German)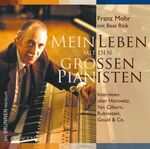 Mein Leben mit den grossen Pianisten
USD & CHF 5.00 / € 5.00
CD Box (English)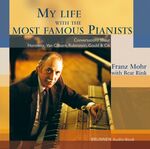 My Life with the most famous pianists - Conversations about Horowitz, Van Cliburn, Rubinstein, Gould & Co.
USD & CHF 5.00 / € 5.00
First book (English)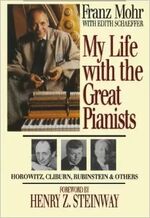 My Life with the Great Pianists
15 €/USD
German book: New edition (2013) of "Grosse Maestros" € 5.00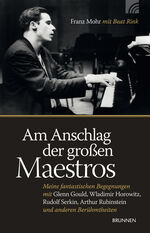 "Am Anschlag der grossen Maestros"
USD & CHF 5.00 / € 4.30
German book: Franz Mohr & friends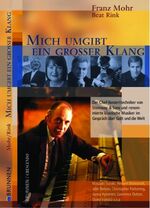 "Mich um umgibt ein grosser Klang" - 20 interviews with famous musicians
Order books and CDs here!
Franz Mohr's photos:
About Franz Mohr:
Henry Z. Steinway
"This book tells Franz's story. It tells much about what it is like to be famous and to play the piano in public. Not included is the loving care devoted by Franz and his associates to the unfamous, the debutantes - the ones who never quite make it - all of whom receive the same careful attention... Franz Mohr is a true friend of all musicians everywhere."

Henry Z. Steinway about "My Life with the Great Pianists"


Frank Mazurko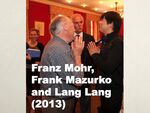 "I have had the pleasure of working with Franz Mohr at Steinway & Sons for over 30 years. He is a teacher, an author, a lecturer, the worlds most respected concert technician. He is an Institution, a living legend, an icon in the world of Steinway.Throughout the piano community and industry, he is admired and he is loved. Many of us believe that Horowitz would not have gone on at all if Franz was not there with him!"

Frank Mazurco, Executive Vice President of Steinway & Sons about Franz Mohr

Press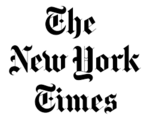 "I play more at Carnegie Hall than anybody else", says Franz Mohr, "but I have no audience." Seeing him alone on the stage, hours before a concert, one might mistake him for a virtuoso improvising on a nine-foot grant. Instead, Mr.Mohr, Chief Technician for Steinway and Sons, is tuning it. He goes where the pianos go: When Rudolf Serkin takes a Steinway on tour, Mr. Mohr goes along, checking a key here, tightening a string there."

New York Times

TV features and films: